When I was a girl, these dog days of summer were for lying on the grass, drinking in books like water. Summer still spells reading for me—as do the brisk days of autumn, the warm hearth of winter, the first bright days of spring. Here are a few cullings from my summer bookworld.
NEWS FROM THE WORLD
Under the Covers
Ecclesiastes 12:12 gives us this advice: Be careful, for writing books is endless, and much study wears you out.
But writers won't desist, and neither will readers.

Pamela Paul, now editor of the Times Book Reviews started listing every book she ever read in a diary she nicknamed BOB— the Book of Books. This summer she published a memoir built around that diary called My Life with Bob: Flawed Heroine Keeps Book of Books, Plot Ensues.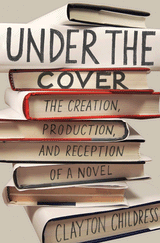 At the creator end of the spectrum, Under the Cover: The Creation, Production, and Reception of a Novel follows the life cycle of a single work of fiction from inspiration to reader reviews. Sociologist Clayton Childress turns a close lens on every phase of a book's life from how writers choose a project to where booksellers decide to shelve it.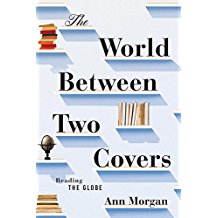 On my own shelf of "Books on Books" a favorite is The World Between Two Covers (aka Reading the World) by Ann Morgan, a British freelance writer who is on a quest to read a book from every country in the world, which she records on her blog. 
Typeface Topples Government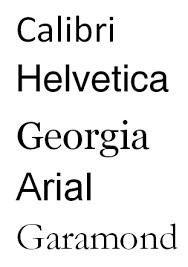 Last Friday, Calibri, the sans-serif default typeface on my Mac, brought down the government of Pakistani Prime Minister Nawaz Sharif. During the investigation, the PM's daughter submitted emails to prove her father's innocence. Unfortunately for him, the emails, dated 2006, were written in Calibri, which was not introduced by Microsoft until 2007.
Wikipedia had to lock its Calibri page after more than 150,000 users tried to edit the content during the day following the revelation. According to The Guardian, the page usually receives 500 daily visitors.
The real scandal is that news reports insisted on referring to Calibri as a font, when in fact it is a typeface. Calibri italic, Calibri bold are fonts. A typeface is a family of fonts ie Calibri. Where are the language police when we need them?
NEWS FROM MY CASITA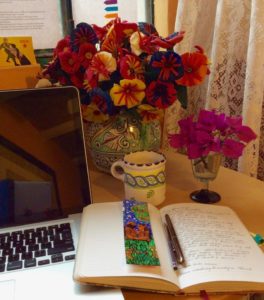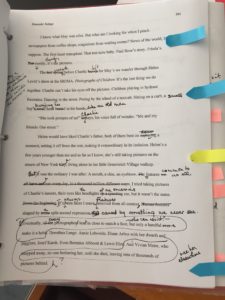 In the respite between presenting Gutenberg's Fingerprint at the spring and fall book festivals, I am hard at work doing a final edit on my novel Refuge, which will appear in fall 2018. So many loose threads! So much unravelling!  
My great joy of fall 2017 will be the unveiling of a Bookmark Canada plaque to honour The Convict Lover. This is the 18th Bookmark Canada plaque, installed in the landscape a book reimagines. The Convict Lover plaque will be set in Garrigan Park in Portsmouth, the old quarry where inmates in Kingston Penitentiary did hard time. The unveiling is Saturday September 30 at 11 am. At 12:15, as part of Kingston WritersFest, I'll lead a literary walk through Portsmouth with readings from the book. Please join me!  
This fall I'll be in Pembroke, Kingston, Edmonton, Vancouver, and Sudbury. The details are on my website. I look forward to lots of great book chats.
FROM THE Department of How Time Flies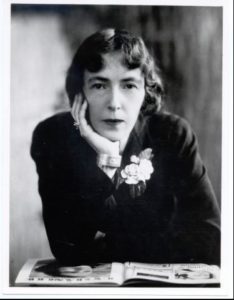 My own little Canada150 project is just past the halfway point. Olivia Robinson, an English student from Charlottetown, and I have been posting a book title published in every year of Confederation. In the first years it was a challenge to find any book at all. Now that we are into the 1950s, it's a challenge to choose just one!
The search—for books by women, by indigenous writers, by writers from across the country and from every sort of margin, as well as the books that have influenced us and our world—has been a frustration at times but always a pleasure. I especially like finding the photos of writers, like this one of Mazo de la Roche, author of the Jalna novels(1927-1960).
Follow us at #canadabooks150. The complete list, updated periodically, is on my website and Bookmark Charlottetown's website too.
LINKS I LOVE
I don't subscribe to many sites—if only I had time to read all those good books!—but there are a couple that are an endless source of inspiration to me.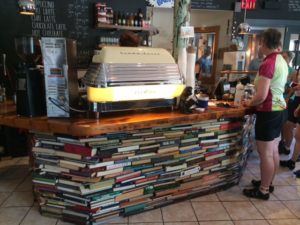 LitHub Daily sends me literary news of the day—did you know that today, July 31, is Antoine de Saint-Exupéry's birthday (1944)?—and also culls the English-speaking news for literary tidbits. I read almost every one.   
BrainPickings is another curatorial site I rely on to point me to interesting reads. Maria Popova gathers books and articles on specific themes—platonic love, the role of the writer in society—bringing together an eclectic mosaic of thought and words.
PS: The photo to the right is from The Socialist Pig, a Gananoque coffee/book haunt. Thanks, Barbara!
THE BEST LITTLE BOOKSHOP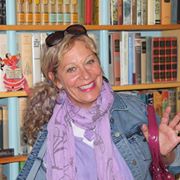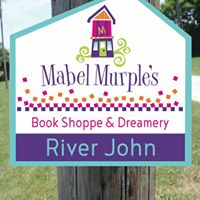 In the tradition of author/owner bookstores, Sheree Fitch opened Mabel Murple's Book Shoppe & Dreamery this summer. Sheree, author of more than 25 books, had just moved to the Nova Scotia village of River John when it was announced the local school would close. She joined the battle to save the community hub, and when that failed, she determined to keep literacy and literature alive with the conversion of a granary on her property into a welcoming book place for kids and adults. She's hosting school groups and author events and Wednesday night campfire story times. I can't wait to visit!
CONGRATULATIONS!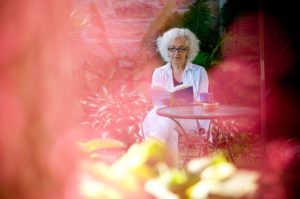 With every LitBits newsletter, I draw a name from my subscriber list to gift with a book. In honour of the Bookmark Canada plaque, I'm sending a signed copy of The Convict Lover to Cindy Gahl.
Thank you for reading LitBits!
Happy reading,
Merilyn