Last seen: The Convict Lover, at the Halifax International Airport, in the women's washroom closest to the Clearwater lobster shop. Reported by Urban Kitten. Currently on the loose, travelling the world.

In fact, 12 Convict Lovers are circling the globe, along with 21 The Lion in the Room Next Doors and six The Holdings—dozens of my books released anonymously into the wilds of public places through Book Crossings, a literary social media site that encourages readers to leave their books for strangers to read and enjoy. Before a book is set free, it is coded and a downloaded label is affixed to the inside cover. Whoever finds it can go on the Book Crossing site to write reviews and track where the book has travelled: New Jersey to Amsterdam to St. Petersburg to Bogota.
Book Crossing was the 2001 brainchild of Ron and Kaori Hornbaker and Bruce and Heather Pedersen. The Internet was brand new then; people were tracking all kinds of things like dollar bills and pictures. But these friends were readers. How cool would it be, they thought, to connect people at a deeper level, using freely shared books as stimulus to a great global conversation.
Sixteen years later, more than 12 million books are circulating freely through 132 countries, released, picked up, read and re-released by almost 2 million BookCrossers.
The Book Fairies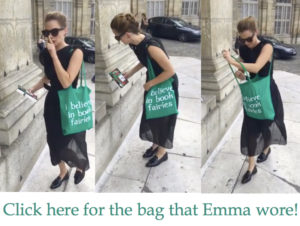 This spring, public book-drops went viral when Emma Watson (Hermione in the Harry Potter movies) Tweeted that she was hiding 100 copies of Margaret Atwood's The Handmaid's Tale in Paris. Her partners on the project were Book Fairies, an organization that encourages book-owners to become book donors by hiding their favourite books in public places for others to find.
It's unclear how these book-hiding fairies are related to the Book Fairies group founded in 2012 by Amy Zaslansky, a Long Island mother who wanted to share her love of books—and her overflowing home library—with less privileged children. Donating books to second-hand shops and charity sales didn't necessarily get books into the hands of children and families who would benefit from them most. Instead, her organization accepts book donations and passes them on to libraries, schools, prisons, hospitals, wherever there is a need. They organize free book fairs at schools, bringing enough books for every student to choose two to take home. And they set up book carts in railway stations for commuters: "Need a book? Take a book. Have a book? Leave a book."
The goal is not only to nurture readers, but to build home libraries and increase literacy. Since 2012, Book Fairies has donated more than 550,000 books to over 400 underprivileged schools and organizations across the New York metropolitan area.
Share Your Shelf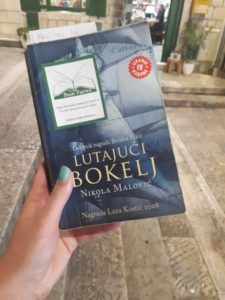 Like the Happy Hermit, I used to be a book hoarder. I wanted all my books within reach. But after decades of reading, I too am awash in paper tomes.
When the Happy Hermit found his library habit was at odds with his peripatetic life, he decided to change his ways.
"Now whenever I finish reading a book while on a train, in a park or in church, I leave it behind. If you have found a book on a bus in Malta, a train in Lithuania, a boat in Venice or a park in Romania in the last few years, chances are that it was one of mine."
The Happy Hermit subscribes to the romantic notion that someone's life may be changed by the chance encounter. "A poor child will discover her love for literature. Somebody will fall in love with a hitherto unknown writer. I am aware that the book is probably more likely to end up in the trash, but still, each time I leave a book behind, I wonder who will read it next."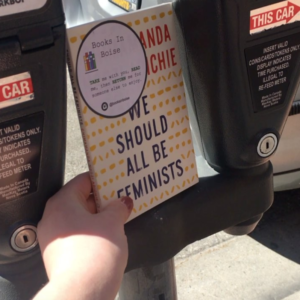 At the beginning of 2017, Audrée Archambault made a similar life-altering decision to leave her books in Montreal Metro stations. Into every book, she tucks a note explaining that the book was left on purpose and whoever finds it is welcome to take it home. She was inspired by Emma Watson who, before she hooked up with the Book Fairies, left books from her feminist book club "Our Shared Shelf" on the London Underground.
Now whenever Audrée takes the Metro, her backpack is stuffed with giveaways. Sometimes she waits to see how people react to the book they find on a seat or bench.
"People are shy. When they see the book, they sit down next to it and then they look at it, and they're not sure if they can take it. And then when no one's looking, they take it."
Société de transport de Montréal, the city's transit agency, is so excited by the idea that they partnered with Audrée to make videos of her hiding books with their authors.
Book Bandits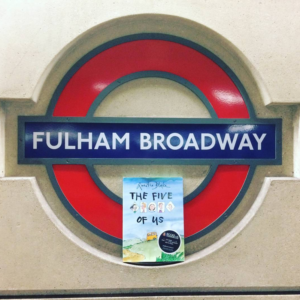 Books on the Subway, Books on the Tube, Books on the Run, Books on the Road, Books in Transit: dozens of organizations have sprung up to promote the free sharing of books on public transit. Gathered under the umbrella of Books on the Move, public transit book-drops are now happening in 14 countries, including India, New Zealand, and Sweden.
But not in Toronto, Ontario, despite the efforts of Book Bandits who are leaving books on GO trains and buses. "Just picture a lumbering individual in a red, plaid shirt," says Kristyn Little, one of the organizers.
The Toronto Transit Commission is not amused.
"Our position on this is that we would prefer people, no matter how well-intentioned, not leave books laying around on TTC property," said a TTC spokesperson in a written statement to NOW magazine. "There is the very real possibility they could get turned in as lost articles and we cannot take on the additional task of trying to keep tabs on these items." Then he added, "Toronto has one of the greatest public library systems in the world that people should be encouraged to use."
Footloose Library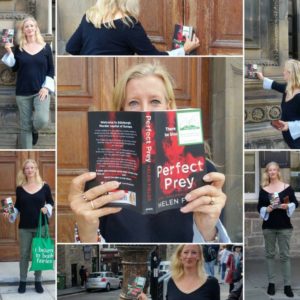 Is the TTC right? Does the free distribution of books cut into library usage? Does it reduce book sales?
Actually, publishers are getting on the free-book band wagon. Just two weeks ago, Helen Fields hid 100 copies of her new thriller Perfect Prey around Edinburgh, Scotland. For publishers, the social media buzz from commuters posting and tagging their finds on Twitter, Facebook, and Instagram is more than worth the lost sales. (Books on the Subway alone has 33,000 followers.)
And for readers, there is the thrill of the hunt. As one exuberant book-finder posted: "It took months of constant vigilance but I finally found one!"
Spreading the Love
Ebooks can't join in the book-share movement. Kindle and Kobo have come up with systems that allow family members to see each other's collections, but it is limited. Privacy concerns inevitably get in the way. Do you really want your son to see everything you're reading?
No, the public sharing of books—moving them hand to hand, stranger to stranger, around the city, the country, the world—is a paper phenomenon, one rooted in that fundamental urge among readers to pass a story on.
In Kingston, Ontario, a local letterpress publisher, Thee Hellbox Press, is joining the book-drop movement with what he calls "clandestine bookmarks" that he leaves in coffee shops, bus stations, wherever people gather. Each one is printed with a question such as, "Have you thanked the person who taught you to read?"
My favourite is: "So, what are you doing to make the world a better place?"
Have you ever found and kept a book? Passed a book on to a stranger?