Since my last LitBits, two years have slid past, and with them, two surgeries, an ongoing pandemic, and another book begging now to be unpacked.
Books Unpacked began as a place to mull over the meaning of the object we call "book." Those musings were part of what became Gutenburg's Fingerprint: Paper, Pixels, and the Lasting Impression of Books. When I started working on a new novel, I wrote about where characters come from, the necessary pain of re-vision, the challenge of a story that crossed continents and a century to become Refuge. When a freak flood destroyed most of what we owned, including a wall of books and boxes of manuscripts, I wrote about that, too. And about reading and libraries and bookshops and really, anything to do with shaping words into something that can be shared.
There are, I discovered, endless ways to unpack books.
Return Migration
On the first day of spring 2021, a new edition of Books Unpacked will begin an exploration into life history, the idea at the heart of my current work-in-progress, Woman, Watching, a biography/memoir about a woman who lived most of her life in a log cabin in the bush, watching birds. Louise de Kiriline Lawrence was many things—a Swedish debutante, an escapee from Bolshevist Russia, a Northern Ontario nurse, a Quintmania celebrity—but what gave her life its deepest meaning and my book its sharpest focus were her years with the songbirds of Pimisi Bay. 

In Books Unpacked, I'll be writing about Louise and the struggles of making sense of another person's life. I'll tell stories, too, of other amateur naturalists who travelled into the wilderness to sit among brambles and black flies to bring back news of what they'd seen.
I knew Louise from my own time in the northern Ontario bush, so I'll be writing about memoir, too: the difference between recollection, reconstruction, and creation. The narrator who intrudes. Since I was seven, my life has been an interplay of words, books, and birds; through these months of isolation, my awareness of all three has intensified—the necessity of whimsy, the release of reading, and the constancy of birds with their chatter and arabesques, returning on schedule as they do every spring, unruffled by human politics or disease.
On Stage
Zoom events never feel quite real to me as a guest writer. I miss that visceral connection with readers. But as a reader, I love seeing and hearing my favourite authors and those I have yet to read.
The San Miguel Writers' Conference has reimagined itself as "A Literary Season Online," where you can hear bestselling authors such Simon Winchester, Isabel Wilkerson, Diana Gabaldon, Emma Donoghue, Isabel Allende, and Margaret Atwood; Latinx writers such as Yuri Herrera, Margo Glantz, and Richard Blanco, and new voices such as Souvankham Thammavongsa, winner of the 2020 Scotiabank Giller Prize, with whom I spoke in January. You can listen to those conversations and more here.
On My Night Table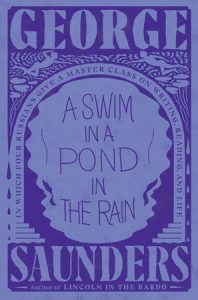 I read too fast, skipping like a stone over slick waters. It takes something like A Swim in a Pond in the Rain by George Saunders to slow me down. This unusual and brilliant book reproduces seven classic Russian short stories that Saunders has been teaching for twenty years to his MFA creative writing students. In the course of parsing the stories, he illuminates how narrative works, why we sink into some stories and resist others. Readers will have their eyes opened to some great fiction and to the writing process. Writers will see what they do in new, inspiring ways. The book was on my bedside table for three weeks and now it is on my desk, close at hand for reading snippets. Like this one:
"Let's be honest: those of us who read and write do it because we love it and because doing it makes us feel more alive and we would likely keep doing it even if it could be demonstrated that its overall net effect was zero."
In my Ears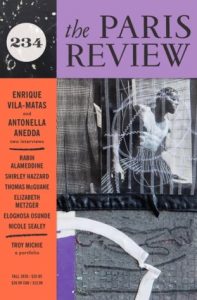 The Paris Review, a literary quarterly started in Paris in 1953, has released a special bonus episode of its podcast, featuring snippets from its Summer and Fall 2020 issues. Some brilliant writing in this chocolate-box sampler: Eloghosa Osunde reading the opening of her story "Good Boy," Lydia Davis reading her flash fiction  "The Left Hand", translator Patricio Ferrari recites "Crater of the Beginning" by Portuguese poet António Osório, to mention just a few. 
My Exploding Head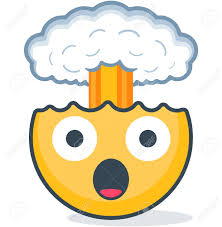 On and off for years, I've awakened suddenly in the night to a sharp, loud noise. I lie in bed, panting in terror, thinking a roof beam has cracked or a thief has dropped the silver or a car bomb has exploded outside my door. At first, I'd creep through the house investigating. Now I struggle to slow my breathing, telling myself it is nothing, just my exploding head.
Exploding Head Syndrome, a kind of auditory hallucination, has been noted for centuries, but only got its name in 1988. I came across it recently in an episode of Doc Martin, of all things. Aha! I thought. Another writerly affliction! and immediately added Exploding Head to my Paradoxical Vocal Chords and Redundant Colon.
Exploding heads, redundancies, paradoxes, and pandemics notwithstanding, the next installment of Books Unpacked will be on its way to your inbox later today, like a bird in the spring.
Happy Spring!