It's June and the rains keep falling, the perfect time to curl up with a book. In this issue of LitBits I share more news of my new release—Gutenberg's Fingerprint—along with how readers make the best lovers (and not only of books); where to catch the cross-Canada tour of Life Reflected; news from the penitentiary; as well as my Choice Indie Bookstore, Links I Love, and a new contest. 
News from the World

What's Old is New Again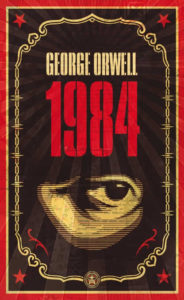 The best-selling book on Amazon this winter was George Orwell's 1984, originally released in early June, 1949.
Who wouldn't love Winston Smith, a minion at the Ministry of Truth, where IGNORANCE IS STRENGTH is carved above the doors. Winston's job is to erase politically inconvenient data from the public record, a skill that continues to be in demand.
This spring, 1984 has has been vying with Margaret Atwood's The Handmaid's Tale for top spot on the New York Times Bestseller List. Published three dozen years after 1984, The Handmaid's Tale presents a very different dystopia, but such a compelling and striking one that women activists dressed in the trademark scarlet robes and white blinkered bonnets have shown up at protests this spring, just as the first episodes of the television series based on the book aired.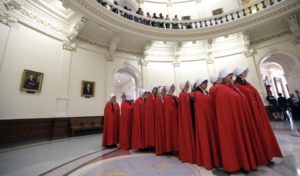 Atwood wrote her dystopia after the election of Ronald Reagan in the early 1980s. Orwell wrote 1984 in the mid 1940s as Roosevelt, Churchill, and Stalin carved up Europe and the Middle East, setting the stage for the big chill we remember as the cold war—a phrase Orwell coined.
Here we are another 35 years on, and one wonders what busy fingers are taking inspiration from Trump, May, Le Pen, and Putin, writing a dystopia for our times.
Readers Do It By the Book
Book readers make the best lovers. So says eHarmony, a dating site that found those who listed reading as a hobby on their dating profile were more appealing to the opposite sex.
Not just any book, though. Men who were reading The Girl With the Dragon Tattoo received 36% more attention; those reading The daVinci Code only 5%. And women who listed Fifty Shades of Grey got 16% fewer messages.
'nuff said.
News from my Casita
What a busy spring!
Gutenberg's Fingerprint was officially released on April 12, and we celebrated at launches in Ottawa, Kingston, and Toronto as well as at festivals in Quebec City, Hamilton, Charlottetown, Moncton, and Halifax. This coming weekend I'll be at the Alice Munro Festival of the Short Story in Wingham, Ontario (girlhood home of Alice Munro), then I take a hiatus until the fall festivals in Kingston, Vancouver, Edmonton, and Sudbury.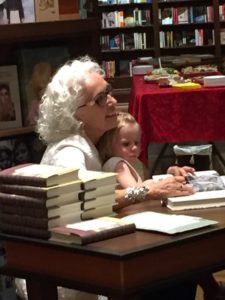 What I love about festivals is meeting so many great readers and writers. And now, so many great books stacked by my bed.
For the month of June, you can win one of three copies of Gutenberg's Fingerprint by joining 49th Shelf and entering the draw. Good luck!
June 18 I'll be in Toronto at the Luminato performance of Life Reflected, the suite of symphonies commissioned from Canadian stories, one of which is my adaptation of Alice Munro's "Dear Life." The National Arts Centre Orchestra is touring the symphonies across the country this summer and fall: I bumped into them in Charlottetown and hope to see them in Vancouver. Catch this astonishing work if you can.
From the Department of How-Time-Flies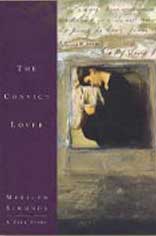 I am thrilled to announce that The Convict Lover will be reissued this fall by ECW Press, an anniversary edition in its BackLit series.
Thirty years ago this summer I crawled up into my attic and found the letters that Josie Cleroux wrote to young Phyllis Halliday while he was prisoner in Kingston Penitentiary. I never would have believed, as I worked for 7 years on this story of clandestinely exchanged "kites," that it would become a touchstone for the email generation.
 Links I love: #CanadaBooks150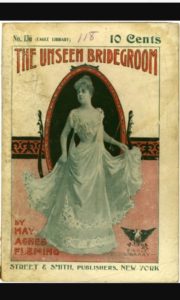 While I was in Charlottetown delivering the Reading Town Lecture, I met Olivia Robinson, a young bookseller about to embark on her MFA in Creative Writing. Together we hatched a plan to find a title published in Canada for every year of Confederation.
We aren't the only ones gathering book lists: libraries across the country are putting together their own top 150 Canadian books, but as far as I know, we're the only ones listing a book a year, the way they would have appeared to Canadians.
What a pleasure to rediscover lost classics and meet for the first time 19th century authors with 30 novels to their name. Come join the conversation at #CanadaBooks150!
Choice Indie Bookseller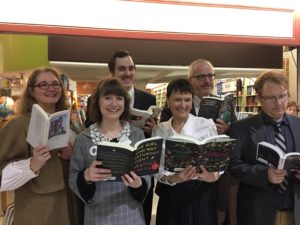 And in Charlottetown I fell in love with Bookmark Bookstore, which has a sister shop in Halifax. Lucky Maritimers! Dan MacDonald and his wife Marlene own both stores, and their hearts and minds are visible on every shelf. As well as brilliantly hand-chosen books, they have the most wonderful selection of fountain pens. I came home with several, and when I admired the ink color of one of the staff, she gave me a cartridge from her personal stash. Now that's service!
On Authors for Indies day (April 29), the staff dressed up as Canadian authors. Can you guess who's who?
And the winner is….
LitBits is exclusive to book lovers who sign up on my website. Every issue includes a draw among subscribers for a new book: one of mine or a book that I love and want to share with you.
And the winner of the LitBits #3 book—a signed copy of The Convict Lover—is Jocelyne Aird-Belanger. The book will be winging its way to you soon. Congratulations!
Prognostications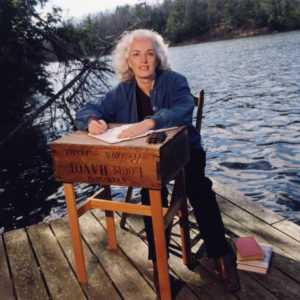 Sooth-sayers tell us the rain will keep coming, perfect weather for curling up with a book.
With Gutenberg's Fingerprint safely launched into the world, I'll turn now to the final edit of Refuge, the novel that will be released in 2018.
Reading and writing—could there be a better way to pass the halcyon days of summer?
~Merilyn Simonds~