Year-end is a time of holiday celebration. It's also a time of taking stock, of looking Janus-like at what has transpired and what is yet to come. A time of resolutions and reaffirmations, and stoking the mind and heart with new, unimagined thoughts.
NEWS FROM THE WORLD
The Refuge of Books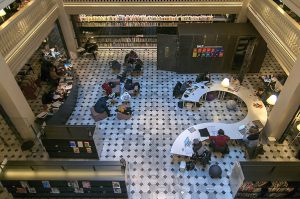 As Turkey's political situation destabilized through 2016, library memberships leapt by 24%. "In a time of terror, political uncertainty, and a coup attempt," says Turkish novelist and essayist Kaya Genç, "Turks took refuge in libraries."
Turkish libraries are variously funded by taxes and by the banks. The previous headquarters of the Ottoman Bank, for instance, now houses 110,000 books and serves more than 47,000 readers in a library funded by Garanti, a private Turkish financial institution. Another Turkish Bank, Yap Kredi, opened its library of 80,000 books and hundreds of ancient manuscripts to the public this fall.
Turkish banks not only create oases of reading, they are publishers, too. Yapı Kredi, for instance, publishes Turkish translations of Ben Lerner, Ian McEwan, Kazuo Ishiguro, and Orhan Pamuk—and it used its ATM machines to promote the Turkish Nobel Laureate's latest book.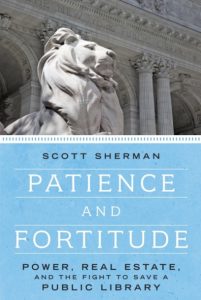 Kaya Genç, in his essay on Turkish libraries, describes long morning queues of people hoping to get inside the Atatürk Library. During one of his own recent visits, he read Scott Sherman's Patience and Fortitude: Power, Real Estate, and the Fight to Save the Public Library.
"It takes time to see banks as saviors of culture, rather than its adversaries," writes Genç. "But this is the case in Istanbul today."
Meanwhile on Another Part of the Planet… 
In Britain, school libraries are in danger of extinction. Already, according to the library and information association CILIP,  30% of the school librarian workforce is gone.
Last week, literary luminaries such as Neil Gaiman and Antonia Fraser joined 150 signatories to a letter calling on the UK Secretary of State for Education to halt the decline in school libraries or "consign a generation to a lifetime of low attainment and mobility." The letter cites one school where, when a full-time librarian was on staff, 1508 books were loaned out to students. Over the same period, without a librarian, children borrowed only 48 books.
"Li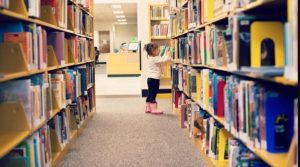 braries turn a love of reading into something communal," says award-winning novelist Matt Haig. "Their value is social and even psychological as well as academic. A good library is the beating heart of a school."
In Canada, the decline in teacher-librarians continues, despite four decades of research from Canada, the U.S., and Australia that indicates well-staffed, well-stocked, well-used school libraries correlate positively with student achievement.
Maybe we should call in the banks. 
Nobel Words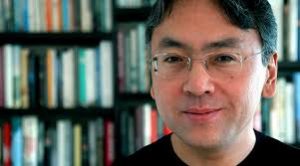 In October, Kazuo Ishiguro was awarded the 2017 Nobel Laureate in Literature.
I've long been an admirer of Ishiguro's novels and his approach to writing:
"'Write what you know' is the most stupid thing I've heard," he said in an interview. "It encourages people to write dull autobiography. It's the reverse of firing the imagination. I'm against any kind of imagination police."
For a time I exchanged emails with Ishiguro, determined to lure him onto our Kingston WritersFest stage. He was just starting to write The Buried Giant. I was persistent in my appeals, until I learned about The Crash.
Most writers claim four hours is the limit for high-level creative output. Not Ishiguro. With his wife, he devised a writing routine they call The Crash. For a limited period, Ishiguro ruthlessly clears his diary: Monday through Saturday he writes from 9 am to 10:30 pm, with an hour off for lunch and two for dinner. For this limited period, his wife takes on all the household chores (earning huge payback rights). Throughout the Crash, he writes freehand, not caring about style. The priority is simply to get the ideas surfacing and growing.
"I find that when you're writing, it becomes quite a battle to keep your fictional world intact."
His advice to writers? "Protect your mind from unwanted influence." Advice we might all consider.
Complicit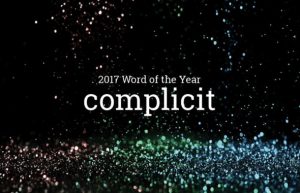 Dictionary.com has chosen "complicit" as the 2017 Word of the Year. To be complicit is to "choose to be involved in an illegal or questionable act, especially with others; having partnership or involvement in wrongdoing." To be complicit is to be responsible for something—even if only indirectly.
Whether it was the definition or the ethics that were unclear, "complicit" was the one of the most searched words on Dictionary.com in 2017. On March 12, the day after a Saturday Night Live skit featured an ersatz Ivanka Trump marketing a fragrance called "Complicit," searches skyrocketed to 10,000% above usual. On April 5, when the real Ivanka said on CBS "I don't know what it means to be complicit," searches spiked to 11,000% above average. Complicit word searches shot up again on October 24 when Arizona Senator Jeff Flake, a longtime Trump supporter, announced his retirement saying, "I have children and grandchildren to answer to, and so, Mr. President, I will not be complicit." He urged fellow Republicans to speak out because "silence can equal complicity."
In defending their choice of complicit as Word of the Year, Dictionary.com said: "It's a word that reminds us that even inaction is a type of action. The silent acceptance of wrongdoing is how we've gotten to this point. We must not let this continue to be the norm. If we do, then we are all complicit."
NEWS FROM MY CASITA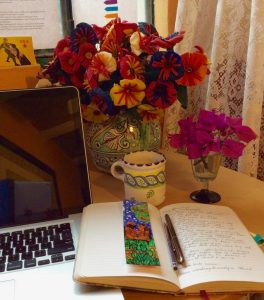 I was thrilled that Gutenberg's Fingerprint made the Globe 100 Best Books of 2017 list, alongside such excellent reads as Eden Robinson's Son of a Trickster, Kathleen Winter's Lost in September, Leanne Betasamosake Simpsons' This Accident of Being Lost, Glenn Dixon's Juliet's Answer, Kyo Maclear's Birds, Art, Life, and Tanya Talaga's Seven Fallen Feathers. 
Gutenberg's Fingerprint kept me busy these past six months—24 trips, 17 cities, 37 events. The greatest pleasure was the conversations about bookmaking and reading, which yielded some surprising tidbits:
• 80% of the high school students I spoke with across the country still prefer to read in paper
• An astonishing number of readers counted printers and typesetters among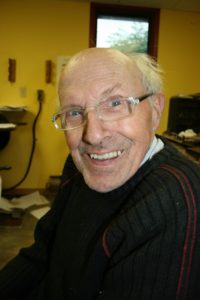 their family and friends.
My own favourite printer, Hugh Barclay, the hero of Gutenberg's Fingerprint, is retiring from letterpress printing. He's sold the press to my son Erik, the supporting actor of the book, and Thee Hellbox Press imprint will be put to bed in the spring. In the meantime, the last few copies of Hugh Barclay bookarts editions are for sale.
FROM THE DEPARTMENT of How Time Flies
In October, when dense fog cancelled my island-hopper flight to Saltspring, I suggested enlisting Skype to transport me digitally across the Strait of Georgia to the Ganges Library. I listened as my co-reader Kathy Page presented her work-in-progress, then engaged in a lively discussion with islanders on the future of books—the profession of our love for paper made possible by digital technology. Thank you to Adina Hildebrandt of Salt Spring Books and her island team.    
LINKS I LOVE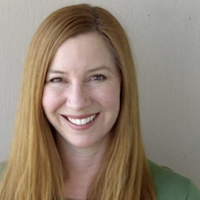 Winner of the Best Education Podcast Award for 2017, Grammar Girl Mignon Fogarty loves language and knows how to use it. Great for writers—and anyone who reads or speaks.
VIDA: Women in Literary Arts reports on the literary world through a feminist lens. Indispensable for those who want another view.
BEST LITTLE BOOKSHOP
Librairie Drawn & Quarterly in Montreal is a mecca for lovers of comics, graphic novels, and generally great books. In October, to celebrate their 10th anniversary, they opened La Petite Librairie Drawn & Quarterly, just down the street, devoted to kids' books. Operated by the graphic publisher Drawn & Quarterly, these two little bookshops alone are worth a trip to Montreal.
CONGRATULATIONS!
With every LitBits newsletter, I draw a name from my subscriber list to receive a free book. To mark the end of the Gutenberg Fingerprint promotion, I'm sending a signed copy with best wishes to Karen Blanchfield.
A final thought . . .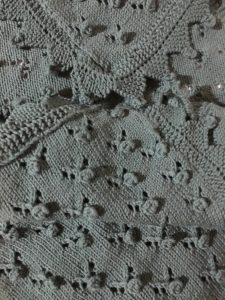 Literary structure is often taught in terms of a journey or quest or architectural building blocks. Yet so much of the language around structure is drawn from handiwork: piecing an essay, embroidering a scene, knitting the end of a novel to the beginning. I thought of this as I worked on a baby blanket in a complicated tree-of-life pattern, a welcoming gift for our fifth Grand Girl, due this winter. As I knitted, I listened to Emily St. John Mandel's Station Eleven, a dystopian novel that is oddly gentle and hopeful about the way in which a story can nurture life through generations.
It made me feel, as I often do, that writing and life, for me, are of a piece. 
Thank you for reading LitBits!
Merilyn