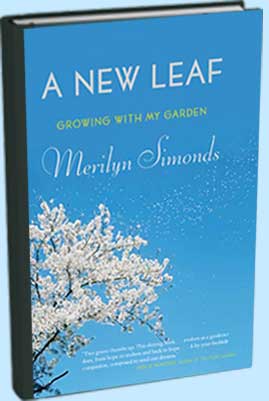 Like stories passed friend to friend, these wise, funny, colourful pieces enrich our understanding of plants, landscapes and life. A book to grow by, and share.

I certify Merilyn Simonds the Saint of Frugal Gardening, for her amazing and helpful skills with plants, other edibles, and people too.

Delightful, funny, wise. In the tradition of the best gardening books, A New Leaf inspires both experienced gardeners and those just beginning. A book for our times.

This shining book evolves as a gardener does, from hope to realism and back to hope—a by–your–beside companion, composed to seed our dreams.

Through the natural cycle of a calendar year, Merilyn shows us how she, and all who put their hands in the soil, grow with our gardens. I love it!